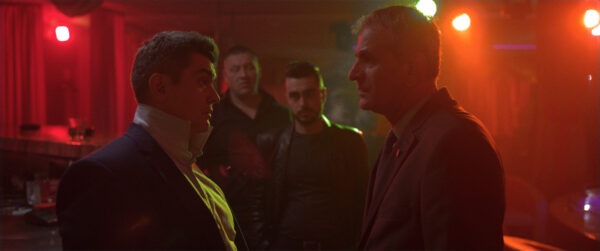 Synopsis
Death In Sarajevo is a feature based on the play of the French philosopher, journalist and writer Bernard–Henri Levy. The film is about the existential fears, anxieties and moral dilemmas that plague modern European society.
Director
Tanovic's 2001 debut feature NO MAN'S LAND received over 40 international awards, making it one of the most awarded first feature films in history. Set in the midst of the Bosnian war in 1993, NO MAN'S LAND won the Oscar and Golden Globe for Best Foreign Language Film, as well as Best Script prizes at the Cannes Film Festival and European Film Awards.
Tanovic has made two other films about war and its consequences. CIRKUS COLUMBIA is set in the period just before the conflict reaches his native Bosnia & Herzegovina, and the English-language TRIAGE, starring Colin Farrell, dealt with post-war trauma.
Tanovic was born in 1969 in Zenica, Bosnia & Herzegovina, and raised in Sarajevo where he studied film directing at Academy of Perfoming Arts Sarajevo. When Sarajevo fell under siege, he spent two years on the frontline filming for the army. The material that Tanovic and his colleagues produced on these dangerous missions has been seen in many films and news reports about the Bosnian war. In 1994, Tanovic emigrated to Belgium to continue his film studies at INSAS film school and he began making shorts and documentaries.
In 2005, Tanovic made the French-language feature HELL (L´ENFER), from a script co-written by the late Krzysztof Kieslowski. The film starred many of France's finest actors, including Emmanuelle Beart, Karin Viard, Marie Gillain, Guillaume Canet, Jacques Gamblin, Jacques Perrin, Carole Bouquet and Jean Rochefort.
Filmography
2016 Death In Sarajevo
2014 Tigers
2013 An episode in the life of an iron picker
2010 Cirkus Columbia
2009 Triage
2005 L'enfer (Hell)
2001 No man's land
1999 Awakening
1996 L'aube
Cast
Jacques Weber
Snežana Vidović
Izudin Bajrović
Vedrana Seksan
Muhamed Hadžović
Faketa Salihbegović-Avdagić
Edin Avdagić
Crew
Director: Danis Tanović
Screenplay: Danis Tanović
Producers: Francois Margolin, Amra Bakšić Čamo
Co-producer: Adis Đapo
Director of Photography: Erol Zubčević
Editor: Redžinald Šimek
Art Director: Mirna Ler
Costume: Ina Arnautalić, Hatidža Nuhić
Make Up: Lamija Hadžihasanović – Homorac
Sound Design: Samir Fočo
Original Score: Mirza Tahirović
Casting: Timka Grahić
Production: Margo Films, SCCA/pro.ba
Co-production: 

France 3 Cinema
Technical data
Format: DCP / HD / 16:9 / 5.1 audio mix
Length: 85 min
Original Language: Bosnian, French, English